AQUIOS CL Akış Sitometresi Sistemi
İlk gerçek Load & Go (Yükle ve Çalıştır) akış sitometresi
Örnek hazırlama ve veri yönetimi genellikle rutin akış sitometresindeki en büyük zorlukların yaşandığı adımlardır. Yarı otomatik bir süreç ile bile, siz ve ekibiniz laboratuvarınızın üretkenliğine katkıda bulunmayan faaliyetler için yılda yüzlerce saat harcayabilirsiniz.
Örnek hazırlama ve analizini tek bir kompakt platformda birleştiren bir sistemle çalışın.
AQUIOS CL daha az deneyimli operatörler tarafından çalıştırılabileceğinden 7/24 akış sitometresi hizmeti sağlayın. 
Mevcut sistemlerin en az verimli özelliklerinin çoğunu ortadan kaldıran yüksek verimli performansla verimliliği artırın. 
Kurulum ve çalıştırma için çok sayıda manuel adım gerektiren mevcut sistemlerde bulunan kullanıcı hatası potansiyelini en aza indirin. 
Lenfosit Alt Küme Analizi için AQUIOS Tetra Sistemini, AQUIOS PLG veya CD4 testini keşfedin veya AQUIOS Designer Yazılımı ile kendi kullanıcı tanımlı tahlilinizi otomatikleştirin.
AQUIOS CL Akış Sitometresinin Özellikleri
Otomatik Örnek Hazırlama
Birincil tüpleri manuel olarak pipetleme gerekmez
İlgili reaktiflerin otomatik olarak dağıtılması ve karıştırılması
Örnek tanımlama kodunun test isteğiyle otomatik olarak eşleştirilmesi
Geçerli test protokolünün otomatik başlatılması
Pozitif örnek kimliği ve aspirasyondan hemen önce otomatik örnek karıştırma
Kapsamlı Kalite Kontrol
Barkod izleme, manuel Kalite Kontrolünün (KK) veya reaktif günlüğü doldurulmasının gerekmediği anlamına gelir
Reaktif izlenebilirliğini içeren tam, kolayca gözden geçirilebilen bir denetim izi oluşturun
KK başarısız olursa, operatör SMS mesajı veya e-posta yoluyla uyarılır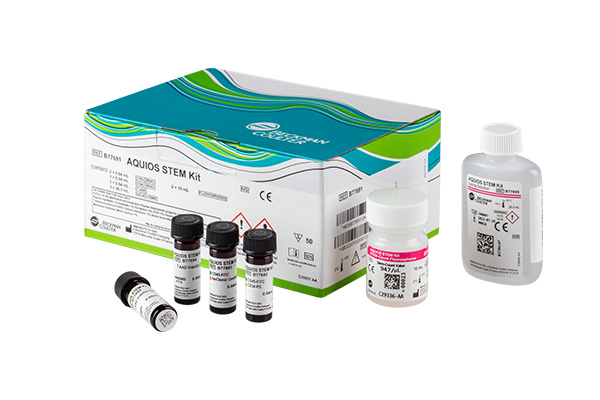 The AQUIOS STEM System is the evolution of the gold standard. The automation and traceability features of the AQUIOS CL provides the option to adapt panels to sample types while staying IVD compliant and remaining ease of use.
Barkodlu reaktifler
Çeşitli barkodlu reaktifler ve sarf malzemeleri kullanır
Lot numaralarını, açık ve kapalı flakon son kullanma tarihlerini ve kalan test sayısını izlemek için otomatik barkod taraması
Reaktif kullanımının sürekli izlenmesi
Reaktifler düşük, boş veya son kullanma tarihi geçmiş olduğunda görülen uyarılar
NOT ALL PRODUCTS ARE AVAILABLE IN ALL COUNTRIES.
PRODUCT AVAILABILITY AND REGULATORY STATUS DEPENDS ON COUNTRY REGISTRATION PER APPLICABLE REGULATIONS. To check if the product is available in your country, please contact your local sales representative or create a request.
AQUIOS CL Workflow